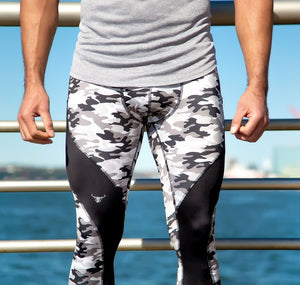 NO-VPL* TECHNOLOGY™
The molded crotch conceals your goodies so that people can't tell your religion.
*Visible Penis Line
SHOP NOW
As Seen In


What the FAQ??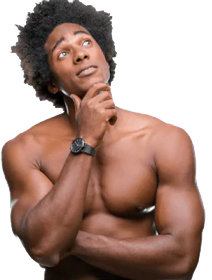 The crotch cup makes your man parts look rounded like a mannequin without showing the outline. As we say here at Matador Meggings, people shouldn't be able to tell your religion by your leggings, so our soft cup conceals your goodies. Thanks to this No-VPL™ (Visible Penis Line) Technology, you no longer need to wear shorts on top of your meggings. If you're feeling brave and you'd like to expose your money-maker, then you can remove this cup and give people the show they've been waiting for. The stage is yours!
It will look exactly like a superhero crotch. Think about it: very well-rounded, perfectly proportionate, and generous. Compression pants don't need to compress your junk and make it flat; we combat this issue. But we also don't want you to look like you stuck a sock in your crotch. The crotch cup is a very thin layer of soft molded foam so no matter what shape or size your joystick is, it will look perfect—just perfect!
A resounding NO! If you've worn leggings from other brands, then you're probably used to wearing underwear/jockstrap/thong underneath, but we solved this problem. Our No-VPL™ (Visible Penis Line) Technology conceals the outline of your goodies and keeps everything in one place so you never need to wear anything underneath. Similarly, there's absolutely no need to wear shorts over them as our meggings come with pockets to store your stuff. Let people appreciate your meggings while they check out your ass.
If you're feeling bold and brave, you can easily remove the crotch cup to flaunt your pocket rocket and give people the show they've been waiting for. The stage is yours! Just make sure to put the cup back when you visit your parents.
Our meggings are men's leggings on steroids. Not only are they specifically designed for the male anatomy, they offer so many unique features such as an open pocket for your phone, a zipper pocket for your valuables, a loop for your t-shirt or towel, an inner drawstring for extra security for when you do deadlifts or backflips, and a non-slip waistband for your long runs. And as we've mentioned once or twice, we completely fixed the crotch issues.
Yep. Compression tights help support and stabilize your muscles while you train. Plus, they help increase blood flow and muscle oxygenation to help speed up muscle repair and reduce post-workout fatigue. Check out this informative presentation full of science and sh*t that we made just to answer that question: 7 Reasons to Wear Compression Leggings When You Exercise.
In a nutshell, wearing compression pants during any physical exercise has been proven to be incredibly beneficial for your body, performance, and recovery.